On July 1st 2015, there where 56.114 inhabitants living in Greenland. That is 130 more than on January 1st , this year, but 181 less than on July 1st 2014.
Total population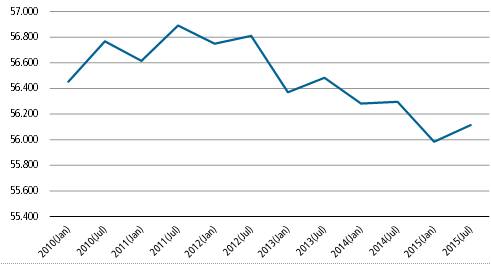 Detailed tables can be extracted from our StatBank (http://bank.stat.gl)
These tables have been updated:
BEDSTM1 Population by July 1st.
BEDSTM2 Population in municipalities by July 1st.
BEDSTM3 Population in districts by July 1st.
BEDSTM4 Population in localities by July 1st.
BEDSTM5 Population (marital status) by July 1st.
BEDSTM6 Population (citizenship) by July 1st.
Table 1 Population in municipalities
January

July

January

July

January

July

Hele landet

56.370

56.483

56.282

56.295

55.984

56.114

Kujalleq

7.151

7.189

7.088

7.024

6.970

6.928

Sermersooq

21.868

21.979

22.236

22.179

22.317

22.369

Qeqqata

9.620

9.517

9.436

9.465

9.397

9.482

Qaasuitsup

17.498

17.566

17.291

17.405

17.168

17.200

Outside municipalities

233

232

231

222

132

135